Summer 2023 Session Dates
2023 Dates:
First Session: June 22, 2023 – July 19, 2023
Second Session: July 20, 2023 – August 16, 2023
Full Session: June 22, 2023 – August 16, 2023
Pre-camp for JCs only: June 20, 2022 – June 21, 2022
**Pre-camp is not mandatory but strongly encouraged. JCs who attend should arrive on 6/20 or 6/22, not 6/21.
Summer 2023 Tuition - Tiered Pricing
2023 Tiered Tuition Amounts:
Full Session

8 Weeks

One Session

4 Weeks

Tier A

$11,495

$7,895

Tier B

$10,795

$7,195

Tier C

$9,995

$6,395

MPB Scholarship

Request Financial Aid

Request Financial Aid
Explanation of Tiers:
Tier A – This tier most accurately reflects the true cost of a Brown Ledge summer for each camper. If every family chose this rate for their camper, the camp would be able to fully cover its yearly operating and capital expenses without additional fundraising.
Tier B – Brown Ledge Camp has historically offered lower tuition as compared to similar overnight camp programs. We hope that families will find that this subsidized rate most accurately reflects our traditional tuition model, which acknowledges that additional fundraising is needed to cover the cost of the program.
Tier C – This subsidized rate is available so that as many families as possible have access to a Brown Ledge experience.
Tier D – Request Financial Aid Information. See the Financial Aid Tab for more information.
Your tuition choice is completely confidential, and will not affect your camper's experience or acceptance into the program.
Our fee structure encourages the full eight-week program, charging proportionately less to enable more parents to afford the full summer experience for their children.
Tuition FAQ
When should I pay 2023 tuition?
We encourage any families that can pay all or partial tuition earlier in the year to do so. As a business that operates with primarily seasonal revenue, any tuition paid prior to April 15 (and especially in the fall months) is extremely helpful in ensuring Brown Ledge's operational success. Tuition paid prior to April 15, 2023 is fully refundable.
Is the deposit refundable?
Your $500 deposit, due with registration, is refundable up until February 15, 2023. After that date, your deposit is not refundable.
Is tuition refundable?
Tuition is refundable up until May 1, 2023. If you cancel your registration after May 1, 2023, your tuition is refundable only if we are able to fill your spot. If we are not able to fill your space, your tuition is not refundable.
Will there be tuition insurance?
We offer optional tuition insurance through CampMinder (via Trip Mate). While we do not require this coverage, you may want to consider it depending on your family plans. As you go to register for camp, you'll notice an option for Program Protection, which you can select to purchase at the time of registration. Although this box will indicate you cannot purchase later, Trip Mate assured us you are welcome to purchase this coverage at a later date.
Why is there a 3% credit card transaction charge?
All credit card payments will incur a 3% surcharge to cover processing fees. To save money, you may instead choose to pay by paper check, e-check, or wire transfer. This allows us to devote up to 100% of your tuition funds to the operation of camp by eliminating the payment of credit card processing fees.
If paying by check, where should I mail the check?
Checks can be made out and mailed to:
The Brown Ledge Foundation, Inc.
PO Box 862
Colchester VT 05446
Financial Aid
Brown Ledge is committed to ensuring that the summer camp experience is available to all campers regardless of socio-economic circumstances.
The Marjorie P. Brown Scholarship is funded by our generous families, alumnae and friends of BLC. Scholarships are awarded on a need-basis and may fund a portion or the entire tuition depending on the family's circumstances. Scholarship support is extended to families who demonstrate financial need. In addition, a camper who receives aid should meet at least one of the following criteria:
Enhancing the social diversity of the camp community, and/or
Increasing the population of campers from local towns of Vermont, and/or
Extending the camp participation of an alumni family.
Both campers and Junior Counselors are eligible for the MPB Scholarship. We are proud to report that the MPB Scholarship has awarded over $130,000 annually in financial aid for the last five years.
Scholarship applications are available in November and are due to the Scholarship Committee on, or before, January 15, 2023.
To automatically receive the application, click "yes" to the financial aid question on the registration form. Or go to www.mytads.com, create a new account and search for Brown Ledge via State: Vermont, City: Burlington, "School Year": 23-24.
To learn more about the MPB scholarship, please call 1-802-862-2442 or email [email protected]
If you are interested in supporting the MPB Scholarship, please call 1-802-862-2442 or email [email protected].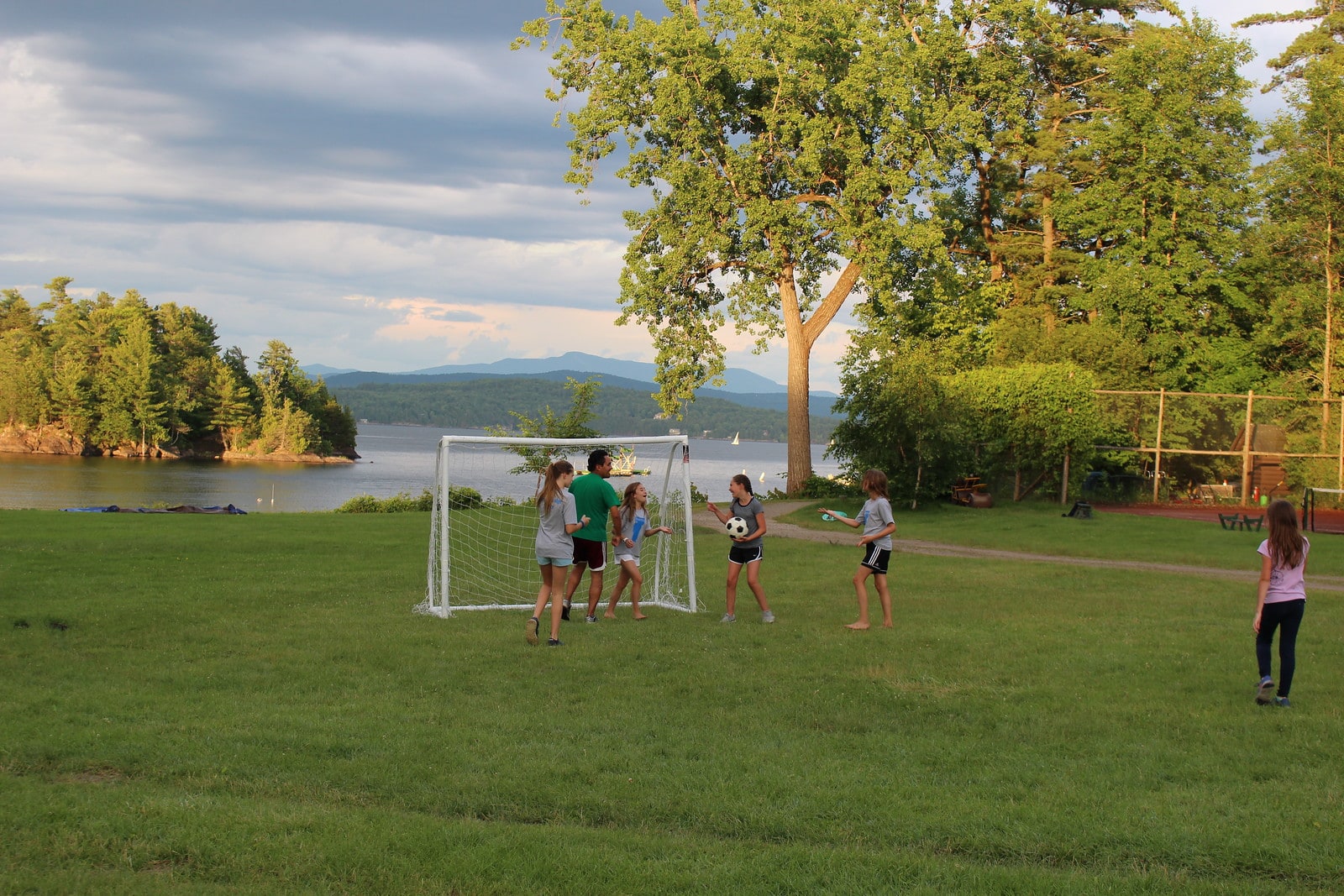 Brown Ledge Camp Enrollment